Mask & Scrub

Exfoliate the skin texture with finesse, and deeply hydrate the epidermis: two complementary beauty and well-being gestures for a daily "spa return" complexion. Discover the scrubs and masks bursting with natural active ingredients from Omnisens.
Cosmétiques Sensoriels • Naturels • Cruelty free • Made in France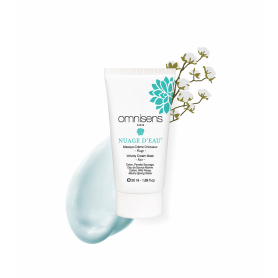 Hydrates | Detoxifies | Illuminated
Give your skin a hydration bath.
A...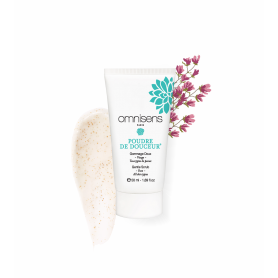 Exfoliates | Soothes | Refines skin texture
Exfoliate your face gently with the...
How often to exfoliate the skin of the face?
To maintain the smoothness of the skin texture and maintain a perfect complexion, Omnisens recommends performing a gentle exfoliation once a week. In fact, skin that is too often exfoliated can become irritated and produce excess sebum to reform its hydrolipidic layer. For maximum effectiveness, we recommend that you apply a dab of cream scrub to your skin and massage the product in with delicate circular movements, from the inside to the outside of the face. Once all the impurities and traces of make-up are removed, rinse thoroughly with lukewarm water. For best results, remove the last traces of hard water with micellar water.
What are the benefits for the skin of a regular exfoliation?
The benefits for the skin of regular exfoliation are numerous: a facial scrub allows the skin to be deeply unclogged by eliminating the dead cells accumulated on its surface, while promoting their renewal. Impurities are dislodged, pores tightened, and skin texture is refined. The result ? Beautiful soft, smooth skin and an even complexion without foundation. So as not to attack the epidermis, choose a soft scrub with a creamy texture, which will have a nourishing and soothing action in addition to exfoliating the epidermis. With a gentle and regular exfoliation, the skin of the face regains all its softness and a velvety feel.
How to apply a hydrating mask?
For a real "radiance booster" treatment and to keep the facial skin well hydrated throughout the year, we advise you to apply a hydrating mask once or twice a week, depending on the season and your skin type. . For a real spa-like treatment, apply a generous dab of cream all over the face, in an even layer, and leave on for about 10 to 15 minutes. During this time, take the opportunity to do a relaxing activity: drink an herbal tea, read a chapter from your current reading, or practice a little mindfulness meditation. After a quarter of an hour, work the excess product in by massaging gently with your fingertips. If you do your mask at night, there's no need to rinse off: you can leave it on overnight for deep hydration. During the day, remove the last traces of the product using micellar water applied to a reusable cotton pad.