Face Cream

Moisturizing, protecting and revitalizing: marine spring water is the key ingredient in our face creams. Light hydration, or a richer anti-aging treatment with a lifting effect, give your skin the "spa at home" moisturizer that matches it.
Cosmétiques Sensoriels • Naturels • Cruelty free • Made in France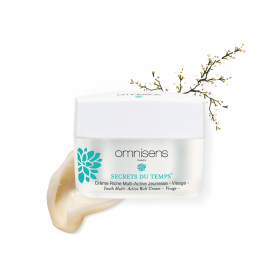 Firms | Smooth | Plumps up
This best-selling rich cream deeply hydrates the skin and...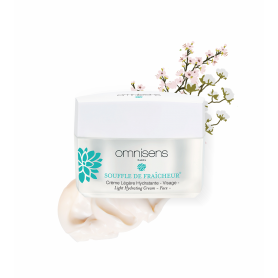 Hydrates | Protects | Softens
This light cream is the ideal formula to keep skin soft,...
When should you start using anti-aging cream?
Even if there is no specific age to start applying an anti-wrinkle cream, it is considered that the first signs of skin aging appear around the age of thirty: the skin tends to dry out, lose elasticity, and cell renewal slows down. This is also the time when the first fine lines and wrinkles appear: usually between the eyebrows, this is the famous "frowning line", or at the outer corners of the eyes. In addition to good hydration and a healthy lifestyle, applying an anti-aging moisturizer will help maintain a brighter complexion, fill in the first wrinkles, and offer a tightening and plumping effect to the epidermis. .
What is the difference between dry skin and dehydrated skin?
Dry skin is a type of skin where the skin lacks sebum and needs nutrition. This skin type usually has a regular texture and fine lines, but suffers from feelings of discomfort and tightness. For this skin type, Omnisens recommends the daily application of a rich moisturizer with a creamy texture to reduce dryness, soothe the epidermis, and nourish it deeply.
Unlike dry skin, dehydrated skin is a skin condition: the skin is thirsty! In lack of water, the pores of the face are dilated, which often leads to an excessive production of sebum and therefore, to the appearance of imperfections. For dehydrated skin, we recommend opting for a light moisturizer, with a refreshing, water-soaked texture, to quench the skin's thirst and allow it to regain its natural balance.
Morning or evening: when to apply your moisturizer?
For well hydrated skin, we recommend that you apply your moisturizer twice a day: morning and evening. In the morning, choose a light face cream with a gel texture, to wake up the skin with a pleasant sensation of freshness and bring it tone and vitality. In addition, a light texture will be ideal as a makeup base since it will not leave a greasy film on the skin. In the evening, after carefully removing make-up from the skin of the face using a gentle cleanser and micellar water, you can opt for a richer treatment with a creamy texture, to leave on overnight for a real boost hydration. The result: upon awakening, well-nourished, visibly plumped skin, as well as a glowy complexion.