Cleanser

The first beauty step for clear, flawless skin? A cleansing and make-up removing routine combining softness and efficiency, to be applied daily for deeply cleansed skin and a perfect complexion.
Cosmétiques Sensoriels • Naturels • Cruelty free • Made in France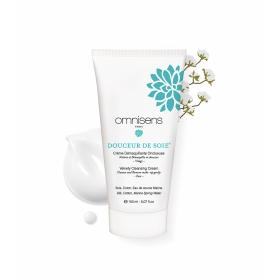 Cleans | Moisturizes | Removes make-up
The pleasure of gentle and quick make-up...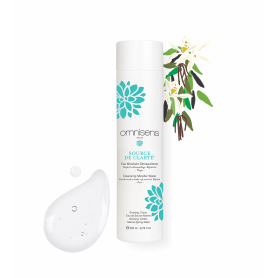 Removes make-up | Tones | Cleans
The benefits of fresh micellar water.
This 3 in 1...
Properly removing makeup from your skin is the first step in an effective facial care routine. And contrary to popular belief, flawless makeup removal is necessary even if you are not wearing makeup! Pollution, excess sebum, stress: there are many factors that attack our skin on a daily basis, which can dull the complexion, clog pores and promote the appearance of blemishes. To allow her to regain her natural radiance, it is important to cleanse her skin deeply every day with a makeup removal routine adapted to its needs.
How to properly cleanse your skin?
Cleanse your skin thoroughly without attacking it, it's possible! All you have to do is choose a makeup removal routine suited to your skin type. For dry skin thirsty for nutrition, opt for a rich and creamy cleansing cream, which will eliminate impurities while hydrating the skin. Dehydrated skin lacking water will appreciate the benefits of waterlogged formulas, especially those of micellar water. The latter will also be suitable for combination to oily skin tending to produce too much sebum. A 3-in-1 moisturizing, cleansing and toning treatment, micellar water is suitable for all skin types and allows makeup to be removed effectively without damaging the epidermis.
How to use a makeup remover cream?
In the morning and / or evening, place a small amount of cream in the palm of your hand with a little water to create an emulsion. It is then applied to the entire face using gentle, circular movements, which will remove impurities as well as all residual traces of makeup. To get rid of the waterproof mascara, leave it on the eyelashes for a few seconds before gently massaging with your fingertips, and thoroughly rinsing everything with clear, lukewarm water.
What is the difference between tonic lotion and micellar water?
Unlike micellar water, tonic lotion is not suitable for removing makeup from the skin. As a complement to a makeup remover, such as milk or cream, it helps remove impurities and the last makeup residues, and has a toning action on the skin. Since it is often made up of alcohol, avoid applying it to the eyes as well as to the eye area. The particularity of micellar water lies in the structure of its micelles, which will capture fatty substances and impurities, while offering the skin their toning and refreshing action. Micellar water therefore gently removes make-up from the skin, including water-resistant make-up, while stimulating the epidermis.