Scrub

A beauty gesture par excellence, exfoliation is second to none for revitalizing the epidermis, eliminating dead cells, and restoring its skin to all of its finesse and radiance. Infinitely soft and rich in natural ingredients, blend for Omnisens' gentle body scrubs.
Black Friday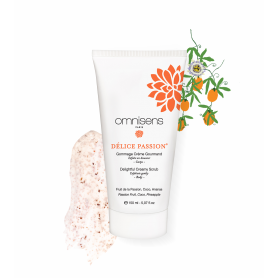 Exfoliates | Softens | Nourishes Let yourself be surprised by a delicious exfoliation perfumed with exotic...
Black Friday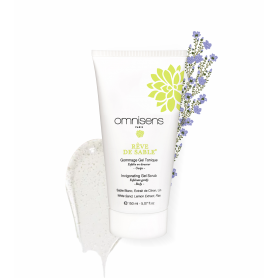 Exfoliates | Softens | Tones Let yourself be surprised by a soft and melting scrub with fresh and...
How to choose your body exfoliant?
Whatever your skin type, it is better to opt for a gentle exfoliation, which will gently remove the dead cells accumulated on the surface of the epidermis without damaging it. To smooth the skin and revive its natural radiance, body scrubs with a creamy texture are ideal. For a moment of pure cocooning, we recommend the scrubs from the Délice Passion and Délice Pistachio range, enriched with nourishing and softening shea butter, and whose coconut shell powder offers an effective and gentle exfoliation. In addition, their ultra gourmet fragrance with notes of pistachios and passion fruit leaves a deliciously scented moisturizing veil on the skin. For a more invigorating and invigorating scrub, why not opt ​​for a soft white sand scrub, with a refreshing gel texture like our Rêve de Sable scrub?
What are the benefits of regular skin exfoliation?
The benefits of exfoliation of the skin are numerous. The regular application of a body scrub refines the skin texture and makes it softer, unclogs its pores, and thus improves its radiance. By stimulating blood circulation, it gives the skin a real boost, improving its tone and elasticity while visibly reducing the orange peel effect. In addition, once freed from its dead cells, the epidermis will be more receptive to moisturizers applied in addition to the scrub: body milks and balms, moisturizing oils. Finally, regular exfoliation helps prepare the skin better for hair removal by preventing the formation of ingrown hairs, and in summer, it prolongs the duration and improves the quality of the tan.
How often to exfoliate your skin?
As skin cells renew themselves very frequently, exfoliation once a month is not sufficient to obtain all of its benefits. We recommend that you apply your body scrub once or twice a week depending on your skin type. For thick or oily skin, up to twice a week, but very thin and fragile skin will be satisfied with a weekly exfoliation.
How to apply your body scrub?
The body scrub is done before a shower or bath, preferably on damp skin. Apply a generous dose of exfoliating treatment to your skin, and use circular motions. To stimulate blood circulation, go up from the lower body, paying particular attention to certain areas where the skin is thicker: elbows, knees. Conversely, gently erase the most sensitive areas of the skin, such as the chest for example.