4718 vues

4 minutes de lecture

CLICK TO SEE OUR VIDEO TUTORIALS!


GIFT PACKAGING - SCARF - HAIR ACCESSORIES 
A tradition straight from Japan, the Furoshiki trend is sweeping through Western countries and reinventing the art of gift wrapping. No more mountains of crumpled gift wrapping paper, immediately purchased, immediately thrown away, make way for durable and reusable!
At Omnisens, we fully adhere to this method of packaging, which combines pleasure for the senses and reduction of waste. This is why this year, we invite you to adopt this tradition with the help of your own scarf, in festive colors to match our limited edition SILK REFLECTS Christmas. Made in France, according to the Oeko-Tex charter, which is part of a logic of sustainable development, our deep blue and gold Furoshiki is offered to you in our Christmas boxes or available for sale alone to wrap your gifts.
WHAT IS FUROSHIKI ?

Originally, Furoshiki is a traditional technique of folding and knotting fabric, used in Japan for wrapping gifts, or for the daily transport of various objects (clothes, lunchbox (bento), various purchases, etc.). In Europe, the term "Furoshiki" often refers to the square of fabric used to make reusable gift wrapping, following various folding methods.
HOW TO USE A FUROSHIKI ?

Infinitely reusable, Furoshiki is first and foremost a folding technique for wrapping gifts, replacing unfriendly single-use paper. Our Furoshiki Omnisens is 50cm square, which will allow you to easily wrap many small to medium sized gifts. Several folding techniques exist, depending on the object to be packaged.
HOW TO WRAP A RECTANGULAR SHAPED GIFT USING A FUROSHIKI ?

(Example: A book, a small box, two Omnisens products side by side)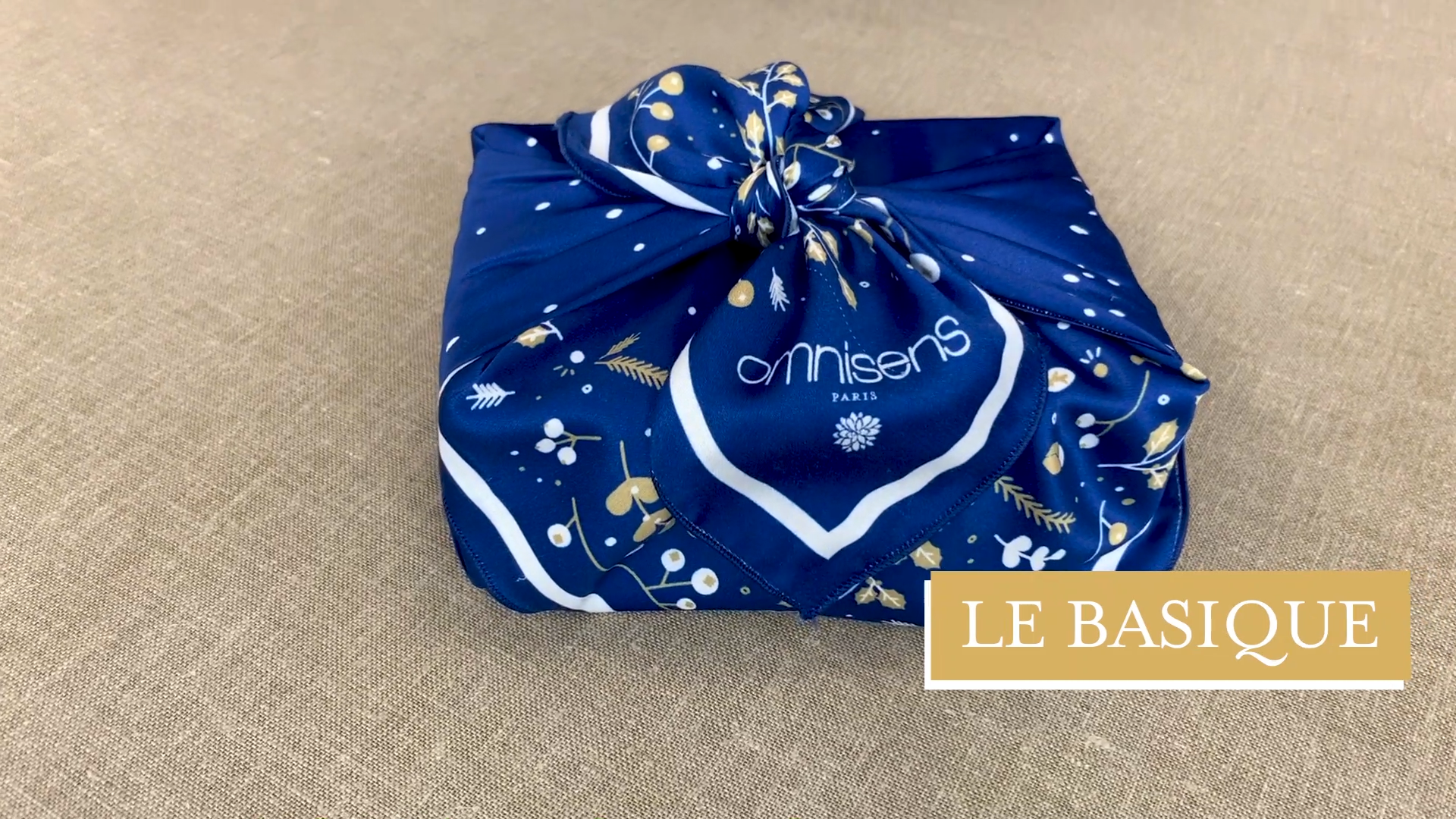 1. Lay your scarf flat, print side down
2. Place your package in the center of the Furoshiki
3. Bring one tip of the scarf over the product, then do the same with the opposite tip
4. Bring the other two opposite ends together and tie a double knot
5. Adjust, your gift is ready !
HOW TO WRAP AN ELONGATED GIFT USING A FUROSHIKI ?

(Example: A Reflets de Soie oil, a bottle, a perfume bottle ...)
1. Lay your scarf flat, print side down
2. Place your bottle horizontally in an angle of the scarf
3. Roll your vial in the Furoshiki, to the opposite angle
4. Take both ends of the scarf, and tie a first knot
5. Then tie a bow tie to complete the gift.
Need a little help to find your way around? We have thought of everything with a step-by-step tutorial : Find here our video explanations for wrapping your Christmas presents using a Furoshiki!
A FUROSHIKI: ENDLESS POSSIBILITIES!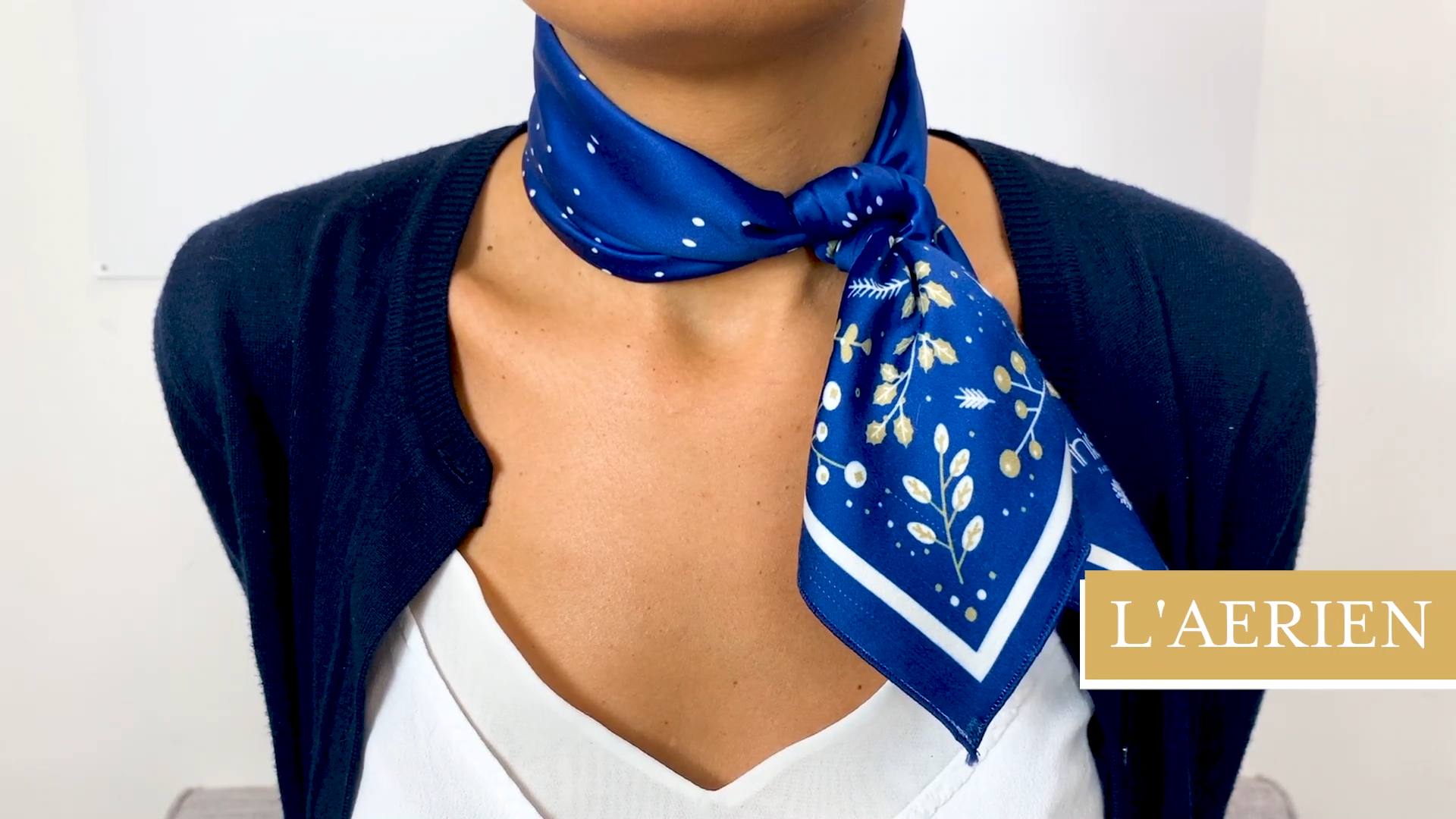 What we like about the Furoshiki is its versatility. Far from being obsolete once the holidays are over, this little scarf accompanies you on a daily basis and reinvents itself as your needs change. 
As a fashion accessory, around the neck or the wrist, it enhances your wardrobe with a touch of color, while elegance. Worn as a soft tie or as a western-inspired bandana, it adapts to your outfits as you wish. Besides on this subject, we have prepared a video tutorial for you to learn how to tie your Furoshiki like a real pro.
A bag charm, it will also allow you to personalize an ordinary plain suitcase to make it easier to spot at the airport.
A gust of wind, a downpour leaving the hairdressing salon? We tie it Grace Kelly style to protect our pretty wavy brushing. We also like it as a hair accessory, tied in a roaring twenties or 80s style: Discover our step-by-step hairstyle tutorial here !
10 GOOD REASONS TO ADOPT THE ART OF FUROSHIKI AT CHRISTMAS:  

1. A 2-IN-1 GIFT : with this packaging which is a present in its own right
2. A MORE ECOLOGICAL APPROACH : buying paper whose sole purpose is to be thrown in the trash isn't really trendy, is it?
3. INFINITELY REUSABLE PACKAGING : by convincing those around you to adopt the Furoshiki, you will never have to buy wrapping paper again!
4. A NEW LEARNING : To occupy the long evenings of confinement, why not learn to master different knots and folds, from the simplest to the most sophisticated?
5. SHARING : There is no doubt that some members of your family do not know Furoshiki, this is the opportunity to introduce them to it!
6. MORE SENSORY PACKAGING: a gift wrapped in a soft satin-touch scarf, it makes you want to open it even more, doesn't it?
7. TIME SAVING : No more scotch tape and torn paper, two folds, a knot, and voila!
8. A TOUCH OF ORIGINALITY : wrapped in its Furoshiki, your gift will have an effect at the foot of the tree!
9. A GIFT OF STYLE : As a bracelet or bag charm, a scarf adds a touch of glamor to any outfit.
10. A RETRO TOUCH : In a 20s or eighties style headband, we like to reinvent ourselves with this ideal accessory for the hair!
Produits associés à cet article
Black Friday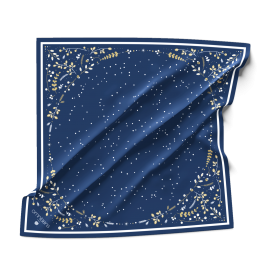 Offer your gifts in this beautiful Furoshiki, an alternative to classic gift wrapping! What is a Furoshiki?...