989 views

3 minutes de lecture

Whether it is to preserve natural resources, limit its environmental impact, or simply to avoid waste: there are no longer good reasons to sort our recyclables.
But if in many homes, selective sorting has been adopted in the kitchen for food and household waste, many are those who are no longer found once in the bathroom. 
Can cosmetics and beauty products be recycled, and if so, how? Follow our guide for a more eco-responsible beauty routine!
What do we recycle in the bathroom?
1)

Cardboard, paper, steel and aluminum 
We agree: the best packaging is the one that doesn't exist! The first step to limiting your waste production, unsurprisingly, is to avoid overpacking. But often, cases are necessary to protect the bottles (those made of glass, in particular), during their transport and their delivery. All these cardboard cases, as well as the instructions
of paper usage they contain,can go straight into the yellow bin. 
For aluminum packaging, such as aerosols, head for the yellow trash too! We therefore ship all our spray products there: hairspray, dry shampoo, or even deodorant.
Still in this same bin, we sort all the plastic bottles and their caps. So this is where we send our shower gels, shampoos, hair masks and body lotions once completed. Be careful, if they contain a pump, remember to remove it first and throw it away with household waste.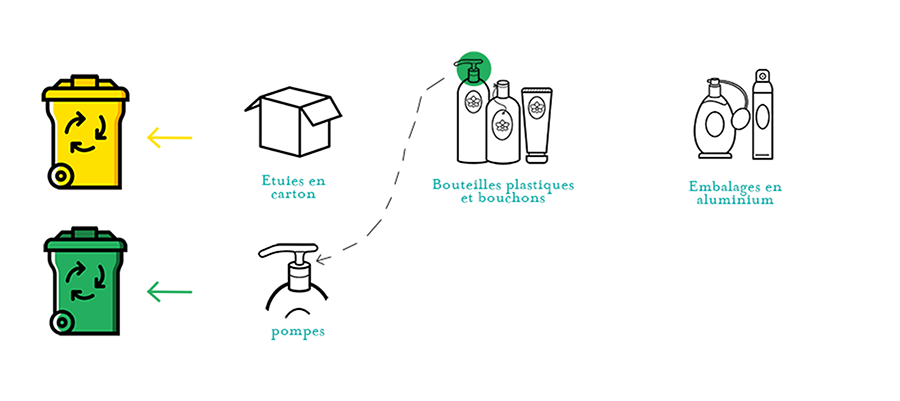 2)

Glass packaging
Foundation, serums, day creams : many beauty and wellness products are packaged in beautiful glass bottles. Good news, all these containers can be 100% recycled and intended for a new use. For faultlessness, you should remember to remove all the lids if they are not glass, as well as the plastic pumps, or the lids: for all these accessories, head to the household waste bin.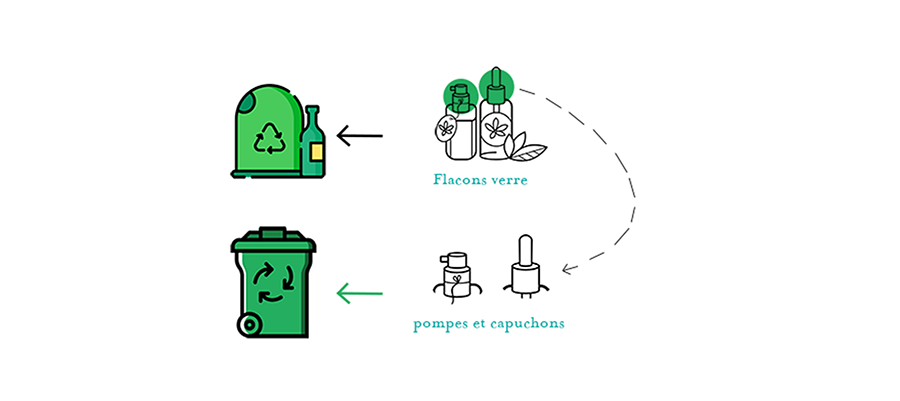 3 tips to make sorting easier (and therefore, life!)
When doing less rhymes with a better result, we love it! 3 tips to keep in mind for even easier sorting:
- No need to wash the packaging before recycling it, just empty it. A little wipe down in your empty cream jar, and you're done! So no wasted water.
- For plastic bottles: you can leave the cap in place! Simpler for you, and cleaner in the sorting container at the same time.
- Finally, leaving all packaging in bulk without nesting them will facilitate their separation, and therefore their sorting and reuse. No need to do too much!
NB: These sorting instructions may vary locally! To learn more about your city, or a specific product, do not hesitate to consult : https://www.consignesdetri.fr/.
Some exceptions: these cosmetics that we do not recycle:
Unfortunately, not all cosmetic products can yet be recycled and destined for a new life, such as:
• Nail polish
• Make-up (eyeshadows and eye shadows, lipstick, lip balm, gloss, etc.)
• Stick deodorant
• Plastic jars and tubes (for the latter, we give you an anti-waste tip: remember to cut off the end before throwing them away, in order to recover all the product!)
Upcycling trend: why recycle, when we can reuse?
For products that cannot be recycled, or to give new life to a finished product, aim for upcycling! We adopt without hesitation this trend full of meaning which consists in reusing our products, and offering them a new utility. For example :
- A well-cleaned dry mascara = An eyebrow brush for a well-defined look!
- A glass jar with a lid = an ideal travel container for small brooches or earrings!
- An empty varnish bottle filled with sweet almond oil = a nail and cuticle treatment!
- A finished scented candle: a pretty decorative jar to place hairpins, oriculi or even small makeup brushes.
Do you have any other upcycling tips? Do not hesitate to share them with us in the comments! And to go further in your zero waste approach, do not hesitate to consult our 5 steps to adopt for an eco-friendly beauty routine!
And on our side, what are we doing for the planet?
If you follow us on social networks, you know that reducing our carbon impact is a constant priority. With this in mind, we have designed 100% biodegradable eco-packs for our range intended for the hotel industry, whose packaging is made from sugar cane. To go further, we are committed to ensuring that all Omnisens packaging will also be biodegradable by 2025.
New comment